The actress showed off her fighting skills in X-Men: Apocalypse, spending months training to play the ass-kicking, telepathic mutant Psylocke. She'll get another chance to throw down in the upcoming Predator reboot/sequel, where Munn is starring in the Shane Black-directed action film as a scientist alongside Boyd Holbrook's commando.
You are watching: Olivia munn martial arts
But just because her character does work in a lab, it doesn't mean Munn won't get in on the action, too. Munn wouldn't get into spoiler territory, but revealed that she'll get to battle with the Predator.
"Between us—wink-wink—it was awesome," Munn told Men's Fitness. "I'll say this, my character knows how to use a weapon. You always see in movies that the guys just automatically know how to use it and the girls, they have to kind of fumble through it. I didn't want her to be a soldier, but there's no reason why she wouldn't know how. Shane and I were on the same page about that immediately."
Munn had high praise for her castmates and the vision that Black, who appeared in the original Predator alongside Arnold Schwarzenegger, had for the film: "I think this Predator is really cool because it's a standalone," Munn said. "It's within the world of Predator but the movie is not a continuation of another one. It has its own ensemble with some amazing actors."
Munn gave details on the film while hosting an event for Chef's Cut Real Jerky on National Jerky Day, where the company turned a gas station into a "gastro station" where people could try the jerky with different flavors and combinations.
But the actress wasn't just promoting the healthy snack, which she uses to stay lean on the set of her films. She actually put her money where her mouth is. Munn, who said she caught the "investing bug" after being an early investor in Uber, invested in the chef-crafted jerky company herself.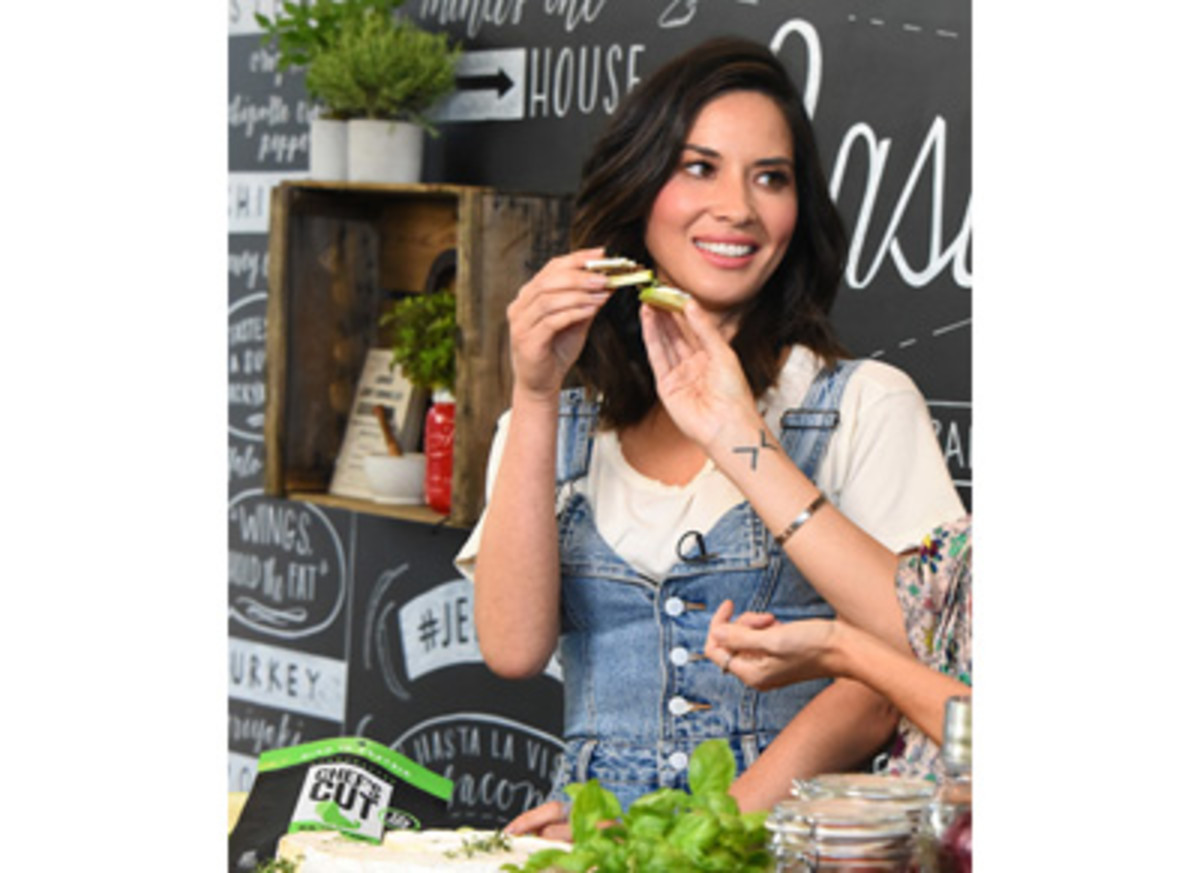 Munn spoke with Men's Fitness about her daily workout routine, the unseen Psylocke fight scene from X-Men Apocalypse cutting room floor, why she invested in beef jerky, and her favorite kickboxing combo.
MEN'S FITNESS: What made you want to not only partner with Chef's Cut, but also be an investor in the company?
Olivia Munn: I was introduced to Chef's Cut a while back, and I instantly became a fan of it. It was just super-tender with awesome flavors, and it really blew me away because it tasted like steak in a bag. I found out they were chef-crafted and chef-founded, and I looked into being an investor in the company. I invested in Uber in the early round and it was really fascinating to see how quickly that grew, and I pretty much right away started looking to see how I could invest in other areas. With food and beverage, it's super interesting to me, because there is this major shift happening where people are focusing on healthier products and Chef's Cut is one of those for me.
What are your favorite flavors of the jerky?
The original really is great, I like the Chipotle flavor, and there's this BLT one that's amazing, too. But, the Sriracha BLT is the one that I love the most. It's a go-to snack for me, especially when I'm traveling so much and on the road. I'll eat the jerky on its own and I love it, but I also like coming up with my own thing. When I'm on set, I've been doing the Teriyaki Turkey with cheese and an apple slice. The jerky is so tender that you can actually make it into other things and make little recipes with it.
See more: Happy Birthday Toni Images, Happy Birthday Toni Cakes, Cards, Wishes
What types of things do you like to eat to help stay in shape?
For a while I was on a protein bar kick, because everyone, we all want more protein. But we want it without all the carbs and stuff. Then I was doing Greek yogurt before I came across Chef's Cut, and it has less sugar and carbs than a bar and it's way more convenient than a yogurt. It's the perfect high-protein snack for me.
What's your workout routine like? What types of workouts and training programs do you like to do?
I like to do more circuit training, just because I'm the kind of person that needs to keep moving in my workout. I've also incorporated a lot of martial arts—I did Taekwondo growing up, and then did more while working on X-Men. With martial arts, you're constantly moving, you're working on your flexibility, and you're working on your strength. It's a total-body workout not just on the physical side but on the mental side as well. My trainers from X-Men, I've stayed really close to them. I have workouts that I can do at home and I have a whole martial arts setup at home.
It has the MMA-type punching bag with the two arms that go out and then the legs and the the body, so I can work out using that. I like to do active stretching, so instead of just sitting on the floor and leaning into it. I'm into doing the big kicks around and just kicking flexibility exercises, and then I go into combinations usually after that. Whether it's working on my 360° roundhouse kick or doing my favorite combo, which is a 360° roundhouse jump back and a hook kick. That's my favorite.
Think you could hold your own in an MMA fight?
No, no, no I can't. No, I could never. I could never, no.
What was it like training for X-Men? What was the training and stunt work like?
We actually shot all the fight scenes myself, but Bryan X-Men: Apocalypse> only kept about, I would say, maybe 25% of it in the movie. So there's still a lot of fight footage that's out there that wasn't in the movie. I remember writer/producer Simon Kinberg said to me last year—and I need to go in and do it—he said that I can go into the editing room and actually edit the fight scenes for fans, which I really want to do because it would be great to give that to the fans.
What was it like working on The Predator? What types of training did you do for the film?
It was really great, because it was this big, real expensive movie, but it felt like we were working on an independent film. Everybody was so cooperative, and we worked together so well. We all started doing training together and learned how to use so many different weapons and guns. It was really cool. We had kind of a boot camp in the weeks before the shoot. So it was really cool because I got to learn a lot of that stuff with the cast.
See more: Yvonne Strahovski Chuck Vs. Phase Three Photos, Chuck Versus Phase Three (Tv Episode 2010)
What was it like on set? Did the Predator freak you guys out?
The Predator, I mean, it's a real Predator that we get to see on set. Yeah, it's an actor, but it has all the armor and stuff, it was unreal. You're looking at this guy and it's pretty, pretty scary, pretty gnarly. That was so fun just as a fan of Predator, not only to be in the movie, but to be able to see it on set. Even when you're not filming, we all were just staring at it. It's one of the coolest things I've been a part of.
For access to exclusive gear videos, celebrity interviews, and more, subscribe on YouTube!