I"m sure that many of us are into RPGs in the real world in addition to this site, so I figured this was as good a place as any to spread this little template. I don"t know how much more explanation is necessary, but the idea is as follows.
You are watching: What i made what the dm saw
Think of a funny or interesting story involving a time when the personality of one of your PCs became drastically different than what you had originally intended, then fill in the template above with pictures representing this. Feel free to replace "What The DM Saw" with "What Other People Saw." I"ll start out with a couple I"ve already made.
See more: Cher Lloyd Craig Monk – Cher Lloyd Husband Craig Monk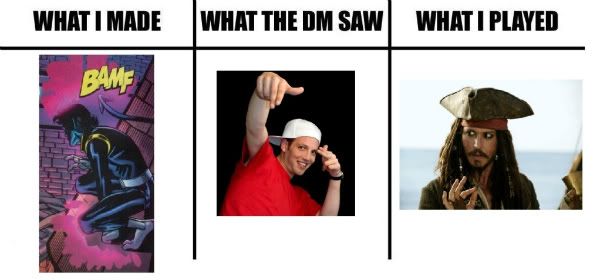 The character I"m working on right now, Geist, is partially based off of another character I enjoyed running in the past. The big similarities were their stealth-based powers and the fact that they were both hooked on alcohol. However, all the GM really noticed was the alcohol thing, and it sort of overtook his expectations of the character. While I originally intended for him to have a serious side, and for the alcoholism to be his method of coping with personal demons, but the GM insisted that I was acting out of character whenever I started playing him seriously. Apparently he couldn"t comprehend the fact that just because someone had alcohol problems doesn"t mean they didn"t have to be drunk all of the time. However, for several reasons, we just had to put up with this particular GM, so I made lemonade out of lemons, and changed up how I was playing him. I made him into a more Crazy Awesome type of character, whose major strength came from unpredictability, which still allowed me to make him badass while still allowing him to act how the GM expected.
See more: Wwe Tribute To Chyna – Watch: Wwes Touching Tribute To Chyna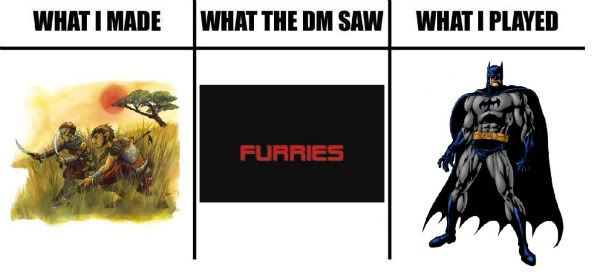 This one was a problem with the same GM. Needless to say, after this incident, he was firmly cemented as "That Guy" in our group"s mindset. This was a generic dungeon crawling campaign, and in light of what the other characters were playing, I decided to go with your typical Rogue. I was looking through the sourcebook to try and decide how to spend my last few points, and when looking through the different races, I saw a Cat-Folk race that really piqued my interest. It fit perfectly with what I was trying to build, and I thought it would be an interesting choice to roleplay. However, when we submitted character sheets, the GM instantly dismissed mine, saying "I don"t want furry crap in my campaign." I tried to explain to him that there was nothing "furry" about it, and that it was just a style choice, but he still insisted that it was furry garbage and he didn"t want anything to do with it, despite the fact that each of the other players were adamantly on my side. After this, we agreed to let him know that we would no longer request his company at our gaming sessions, and one of our other players agreed to take up the role of GM. The others agreed to afford me a few extra points, as whenever the old GM did something jerkass-ish, I usually seemed to take the brunt of the blow. So I really pimped out my character and he became kind of a standout of the campaign.